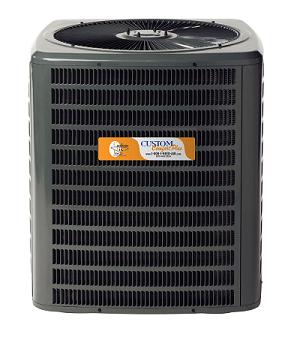 13 SEER Performance
R-410A Chlorine-Free Refrigerant
The Custom Comfort Plus brand GSX13 Air Conditioner uses the chlorine-free refrigerant R-410A and features operating sound levels that are among the lowest in the heating and cooling industry. With its 13 SEER rating, the GSX13 will help reduce energy consumption throughout the life of the system.
Outstanding Warranty Protection*
This unit is backed by a 10-Year Parts Limited Warranty.* For a full description of the warranty applicable to this product, please review the consumer brochure or product warranty by clicking on the links below.
R-410A chlorine-free refrigerant
Energy-efficiency scroll compressor
Factory-installed liquid line filter dryer
Copper tube/aluminum fin coil




For dependable, year-after-year cooling performance, this product offers a homeowner durable value and trouble-free performance.

* Complete warranty details available from your local dealer or by clicking below on the Product Warranty link. To receive the 10-Year Parts Limited Warranty, online registration must be completed within 60 days of installation. Online registration is not required in California or Quebec.

Additional Information

Before purchasing this appliance, read important information about its estimated annual energy consumption, yearly operating cost, or energy efficiency rating that is available from your retailer.